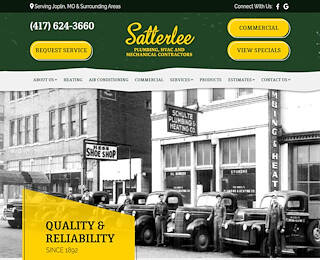 Choose a company that can provide you with quality heating and air conditioning in Pittsburg, KS; Satterlee Plumbing, HVAC, and Mechanical Contractors is the best choice when looking for a reliable, consistently affordable Pittsburgh, KS heating and air company. If you're having issues with your HVAC system, heater, or AC unit, we can send a skilled technician out to your home to troubleshoot the problem and offer cost-effective options for repairs, system upgrades, or equipment replacement.
5 Benefits of Choosing Us For Heating and AC Service
1. We're known to locals as the most reliable heating and air conditioning company in Pittsburgh, KS. If you're waiting by the phone for another HVAC company to call you back, call us instead and we'll dispatch someone to your home or place of business right away. We'll be there when we say we will, ready to go to work to resolve your heating and cooling problems.
2. We're locally owned. Instead of contacting in a big-name HVAC company offering heating and air conditioning near Pittsburgh, Kansas, hire a local HVAC professional who can provide a better customer experience. Satterlee Plumbing, HVAC, and Mechanical Contractors has your 100% satisfaction as our goal, from the moment you reach out to us by phone or through our website.
3. You'll appreciate our affordable service rates for repairs, maintenance, upgrades, equipment replacement, and new equipment installation. When it comes to heating and air conditioning in Pittsburg, KS, we always have your budget in mind, looking for ways to save you money by helping you avoid future repairs and early equipment retirement. Sometimes, the best value is not the cheapest price; rather, it's the service that goes above and beyond to meet your needs.
4. Experience means a lot when hiring a Pittsburgh, KS heating and AC company. Who would you prefer poking around inside of your HVAC system: one of our experienced technicians or someone that doesn't have a lot of knowledge? Don't take chances with expensive equipment- call Satterlee Plumbing, HVAC, & Mechanical Contractors for a favorable outcome.
5. 100% free equipment inspections with no obligation to hire us. That's right, while most other heating and AC companies charge for inspections, we provide them for free because we are committed to offering our community the best value. If you've noticed rising energy bills, inefficient performance from your heater or AC, or strange noises coming from equipment, call our office to request a free HVAC, heater, or AC inspection today.
Trust Satterlee Heating and Air Conditioning in Pittsburg, KS
We've earned a reputation throughout the community as a company residents can rely on. When other HVAC service providers are concerned about their own bottom line, we're always laser focused on meeting your needs, first and foremost. Contact us to schedule a free inspection or request a service quote; our helpline number is 417-624-3660. We've got you covered with affordable rates, experienced technicians, and reliable service when you need a same-day repair.
Heating and Air Conditioning Pittsburg KS
Satterlee Plumbing & HVAC
+1 417-624-3660
3423 North Main Street
Joplin
MO
64801
View Larger Map
We welcome your comments!