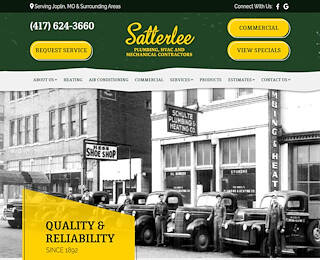 Trust Satterlee Plumbing, HVAC, and Mechanical Contractors for affordable air conditioner repair in Joplin, MO. If you're online looking for a reliable Joplin heating and air company, you couldn't find one with a better reputation throughout the community than Satterlee. We've faithfully served the greater Joplin area since 1892, with a commitment to providing quality service at a reasonable rate. Reach out to us by phone or through our contact form when you need professional advice or service.
Trust Us For Quality AC Services
Whether it's a repair you need, an equipment upgrade, or a new air conditioner installed, rest easy knowing our team has the experience and skills you seek. With decades of expertise brought to every project, you know you've hired the right HVAC company for your air conditioner repair in Joplin. If you're experiencing issues with your AC, call our service hotline to speak with one of our technicians who can provide over-the-phone advice or set up a time to come out and troubleshoot your system.
The Best Joplin Heating and Air Company
Other HVAC companies will ask you to wait by the phone for a callback- we'll address your needs right away, providing you with peace of mind that our team will be there quickly with the right solution for every problem. Instead of the typical no-call, no-show, you'll experience 100% customer satisfaction when choosing us for your air conditioner repair in Joplin. If you're by the phone waiting for an AC company to get back with you, pick up the phone and call Satterlee Plumbing, HVAC, and Mechanical Contractors. We can offer you more without it costing more.
Choosing Heating and Air Conditioning Company in Joplin, MO
Read online reviews and look for a company with an excellent history of meeting the needs of its customers. Type our name into your preferred directory, or check us out on Yelp, Angie's List, or Google to see what others say about our reputation. We'd love the opportunity to answer your questions and discuss your AC needs when you call and ask to speak with an air conditioner expert from our company. We know you have many options when hiring a service provider; we want to show you why we are the best choice for working on your cooling system.
When You Need Heating and Air Conditioning Near Joplin, MO
If you live in or near Joplin, you can call us to schedule a service call to look at your AC system, make repairs, provide system upgrades, and replace old equipment with new. We're confident you won't find a better Joplin, Missouri heating and AC company anywhere.
To speak with someone from Satterlee Plumbing, HVAC, and Mechanical Contractors right now, call 417-624-3660. If we can't pick up the phone immediately, you can know for certain that we will return your call in a timely manner with the least amount of wait time possible. We've built a reputation on our commitment to providing superior service to every customer. Rely on us for an affordable air conditioner repair in Joplin, MO.
Air Conditioner Repair Joplin MO
Satterlee Plumbing & HVAC
+1 417-624-3660
3423 North Main Street
Joplin
MO
64801
View Larger Map
We welcome your comments!